costume designer   jewelry designer   milliner

2013

The Colony Theatre
directed by: Jim Fall

set: Jeff McLaughlin

lights: Sohail E. Najafi

sound: Drew Dalzell
hair: Carrie Russek

photographer: Michael Lamont

cast featured: Ben D. Goldberg, Brett Ryback, Tyler Milliron, Rebecca Johnson, Jeffrey Landman, Jordan Burnett

FALLING FOR MAKE BELIEVE
(world premiere)
"...as framed by Jeff McLaughlin's art deco set, wide and shallow, Dianne K. Graebner's period-perfect costumes, Lisa Hopkins' minimalist choreography, Saltzman's fine book, Keith Harrison's fluid musical direction, and Jim Fall's expert direction."
Dale Reynolds- Stage Happenings
With director Jim Fall exercising optimal creativity, designer Jeff McLaughlin provides a smartly Deco-inflected unit set, against which Sohail e. Najafi's lush lighting, Dianne K. Graebner's suave costumes and Drew Dalzell's discreet sound register beautifully. It's ultimately the numbers, overseen by musical director Keith Harrison and choreographer Lisa Hopkins, that drive Saltzman's affecting narrative, sold by the accomplished ensemble.

Critic's Choice
David C. Nichols- L.A. Times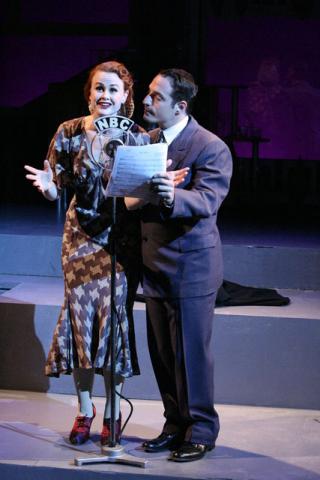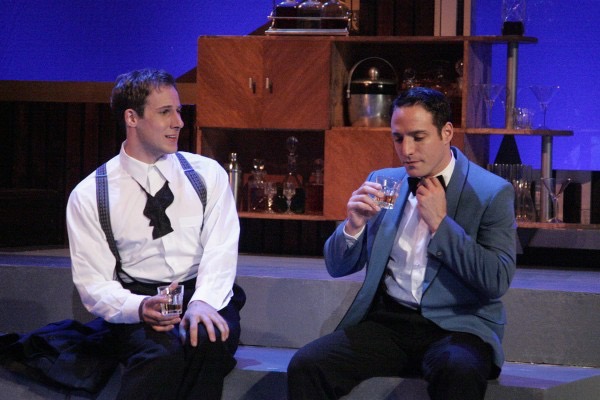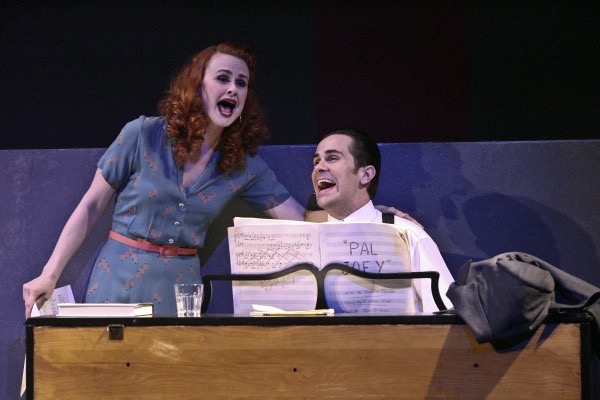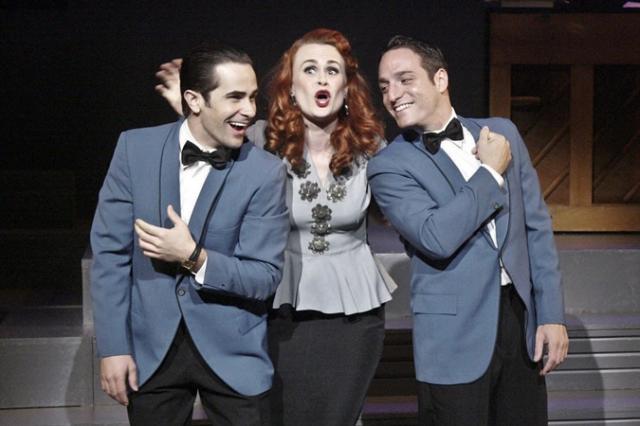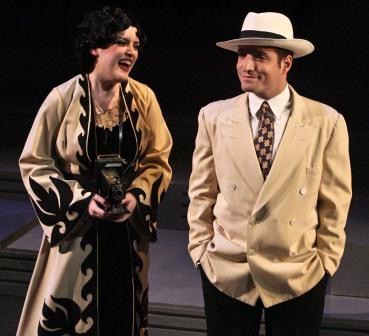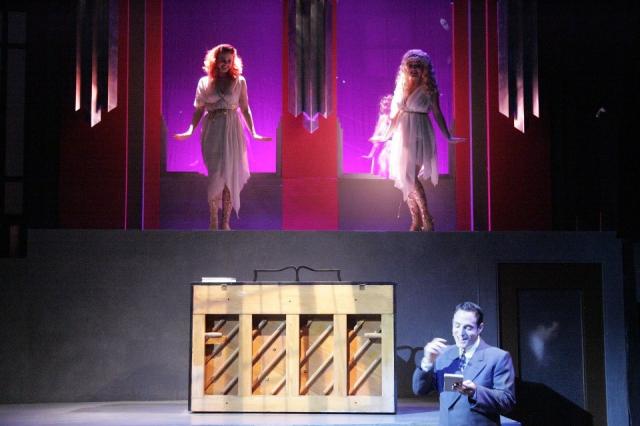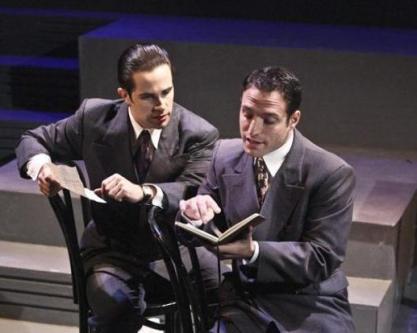 "The Rodgers & Hart magic also explodes onstage in Rebecca Ann Johnson's character, Vivian Ross, based on actress Vivienne Segal (the original Vera Simpson in Pal Joey.) Johnson's got the look, the presence, the timing…and boy, she's got the pipes. It doesn't hurt that costume designer Dianne K. Graebner has outfitted her in some stunning period pieces that show off her uncanny pinup girl resemblance – red lips, swinging hips and enough film noir glamour to knock a light bulb out of its socket."
Musicals in L.A.

"The set design by Jeff McLaughlin is limited by budget and space considerations, and there is little room for choreographer Lisa Hopkins to bring much to the party. Dianne K. Graebner's costumes are superbly well-suited to the show, giving the impression of traversing three decades (the 20s to the 40s) that had very different clothing styles. Drew Dalzell does fine work with his sound design, blending the voices and music skillfully; and Sohail e. Najafi's lighting is expert and focused."
Samuel Bernstein-Stage and Cinema

"Falling For Make Believe looks as sensational as it sounds, thanks to Jeff McLaughlin's gorgeous art-deco set, MacAndME's detailed period properties design/set dressing, and costume designer Dianne K. Graebner's gorgeous 1920s/30s/40s suits and gowns, all of which Sohail e. Najafi lights with abundant pizzazz. Cassie Russek gets A+ for hair and wigs."
Steven Stanley- Stage scene LA

"Production values, despite the Colony's budget woes, are solid. The visual polish of Jeff McLaughlin's Art Deco-style unit set is complemented by lighting designer Sohail e. Najafi's glow of sunset and the "Blue Moon" twilight viewed through lofty, oversized windows. Multi-level platforms and stairs provide effective performance spaces for seamless scene changes and for choreographer Lisa Hopkins' enjoyable, if brief, solo and group numbers. Costume designer Dianne K. Graebner, too, enhances the proceedings in no small way with a notable variety of well-tailored, well-researched ensembles."
Lynne Heffley- Burbank Leader